The Bridge that Challenged Volcano Fuego
Published (in Spanish) in the May-June issue of the Rotary International Heart of the America's bi-monthly review. A 29-image slide show of the bridge build is available here. Click here to view the article as-printed in a PDF.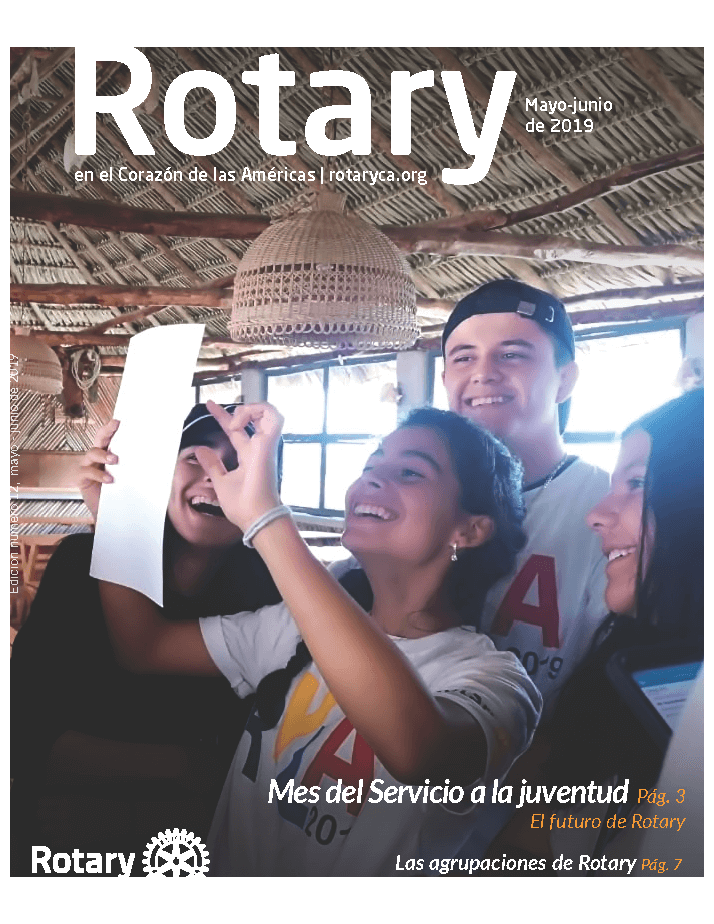 Volcano Fuego's strength was apparent. Tons of grey ash was deposited in the Cenizas River bed during its eruption. Amid that desolation, a bridge stood painted Rotary Yellow with a thousand handprints in Rotary Blue.
On June 3, 2018, Volcano Fuego erupted, killing more than 400 people. Its damage, less in Escuintla than other locales, appeared to affect the emotional values of the local people. Why didn't something or someone help protect them?
Rotary International Guatemala Disaster Relief Fund focused its response on the future. The river, during rainy months, blocked the escape of 15,000 people. Rotary asked Engineers Without Borders to design two bridges beginning February 2019.
At the first meeting, EWB announced it needed 60 volunteers daily to construct the bridge. Each of the building partners committed its share, but seemed to doubt the others would.
While the Army and municipal backhoes excavated the bridge towers and anchors, workers poured concrete, cut, set, and wired rebar, and built the forms for the towers and hangars. The cable arrived at night; the volcano glowed red in the background. The Army backhoe unloaded the spools while the coordinators asked the local leaders for workers. The next morning, 103 volunteers from all 8 areas came — the largest number working any single day.
Getting the cable off the spools was a challenge. They rigged steel pipes for the backhoe to hold as if it were a paper towel dispenser. The workers pulled the heavy cable out and down the road, almost half a mile.
The human centipede, weighted down, sweaty, covered with grease, picked up the first section, carried it across the river, and paralleled it to the towers. Passed from worker to worker, it went over the top, down to ground level and across to the anchor. The cable equipment pulled; the team clamped. The Herculean task finished because all 103 individuals worked as one.
As the EWB team secured the clamps, the community, its workers once separate, organized together and, without additional direction, moved the second cable into place. Over the weeks, the workers watched their progress together, relied and encouraged one another. The trust in one another, missing after the eruption, returned.
The leaders last meeting differed from the first. Together, they chose Rotary's colors for the bridges' finish. As families hoisted the children to place their handprints high on the towers, smiles and laughter filled the air.
This beautifully built bridge to safety was more. It was a bridge for healing.